It is my space, so let it be known, therefore and henceforth, everything in it shall be pink. I decree it, so shall it be written.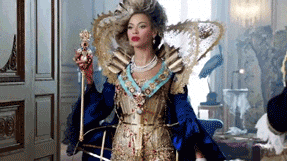 I found these chairs last year at the thrift store for $5 each. Weirdly, I have a lot of chairs to choose from because I buy them when I love their shape and they're a good price. These are pretty small and they don't have arms so they'll fit well in my tiny space. I want all the furniture to be easy to move around to fit the different uses that I have planned for the shed. I'm pretty sure these are 1950's kitchen chairs but somebody feel free to comment if you have an idea of their origin.
I knew I wanted them to be pink so I sprayed the legs with Rustoleum Metallic spray paint in Copper. It's called copper but in my mind, copper is more orange. This color is the perfect shiny blush pink and not copper at all. I used a 120 grit sanding block to get rid of the rust on the legs, then sprayed two light coats of the copper spray, letting it dry for about an hour in between.
Fur fabric is really forgiving so you can very easily cover just about anything with it. Furry furniture is trendy right now and easy to replicate so you don't have to break the bank on something you may not want a few years down the road. Faux Curly Yak Fur is one of my favorites because of the beautiful pale pink color. The texture is interesting to look at and it's cozy to lay on. It can be dressed up for your dining room chairs, or dressed down as a pouf in your kids playroom. I bought 1 1/2 yards or fabric to make 2 chairs and I have enough leftover to make a few smalls pillows.
To cover the chairs, I hot glued some scraps of polyfil to the seat and back rest. I covered that with a square of batting and glued down the edges to keep everything in place. Since there will be lots of sitting and moving around on these chairs, I didn't want the filling to move around and get lumpy. (You can use an old cotton tshirt as batting, since it'll be covered.) I cut my fabric into 2 smaller sections. 1/3 to cover the seat, and the other 2/3 to cover the front and back of the back rest. I used a staple gun on the under side, then pulled it taut on the opposite side and stapled it into place. I did the same with the back rest.
Here are some inspirations from around the internet to get your creative juices flowing. At these prices, you can be sure your one day of work was worth it! Restoration Hardware, World Market, Wayfair. Pottery Barn all have versions of a pink fur chairs and they're all so cute. Tag me on Instagram if you make one! @DoneInADayMom